Wendy is a contemporary visual artist living in Queensland, Australia. Her family are from Goodooga, New South Wales, and she is a descendant of the Noongaburrah (Kurrajong) people, speakers of Yuwaalaraay. She has always been interested in art and design, however her career path to get there is very different. She was also serving in the Australian Army as a nurse for many years.
"I find painting very calming, therapeutic and spiritual. I paint in response to music, conversations, colours, feelings, nature, my past, my present and my future. Sometimes I wake up with an idea in my head, other times I have an idea, but I need to work through it, so I lie quietly and pray and then I just paint, and it comes. I rarely plan too much ahead, and rarely actually map out out a painting. It grows as I grow. Indigenous artwork tells a story and all paintings find their owner by their connection to the story as well as the visual impact. I paint in a contemporary style, drawing from my history and family, about experiences and circumstances relevant to today, although the themes can translate across ages, culture and time. "

Wendy has teamed up with Life Apparel Co to create a product specific, editioned artwork for Anzac Day 2019.
She is currently represented with one design in our retail collection.

The Never Forget polo honours our Aboriginal and Torres Strait Islander brothers and sisters who fought at wars and participated in peace keeping missions. Indigenous Australians have served in virtually every conflict in which Australia has participated since the start of last century – from the Boer War to East Timor, and most likely Afghanistan also.

The artwork depicts the rising sun over the ocean's horizon, representing the spirit of Anzac & a new day. The small white crosses represent the departed, and the red cross pays tribute to the nurses and the medical aid needed abroad and home.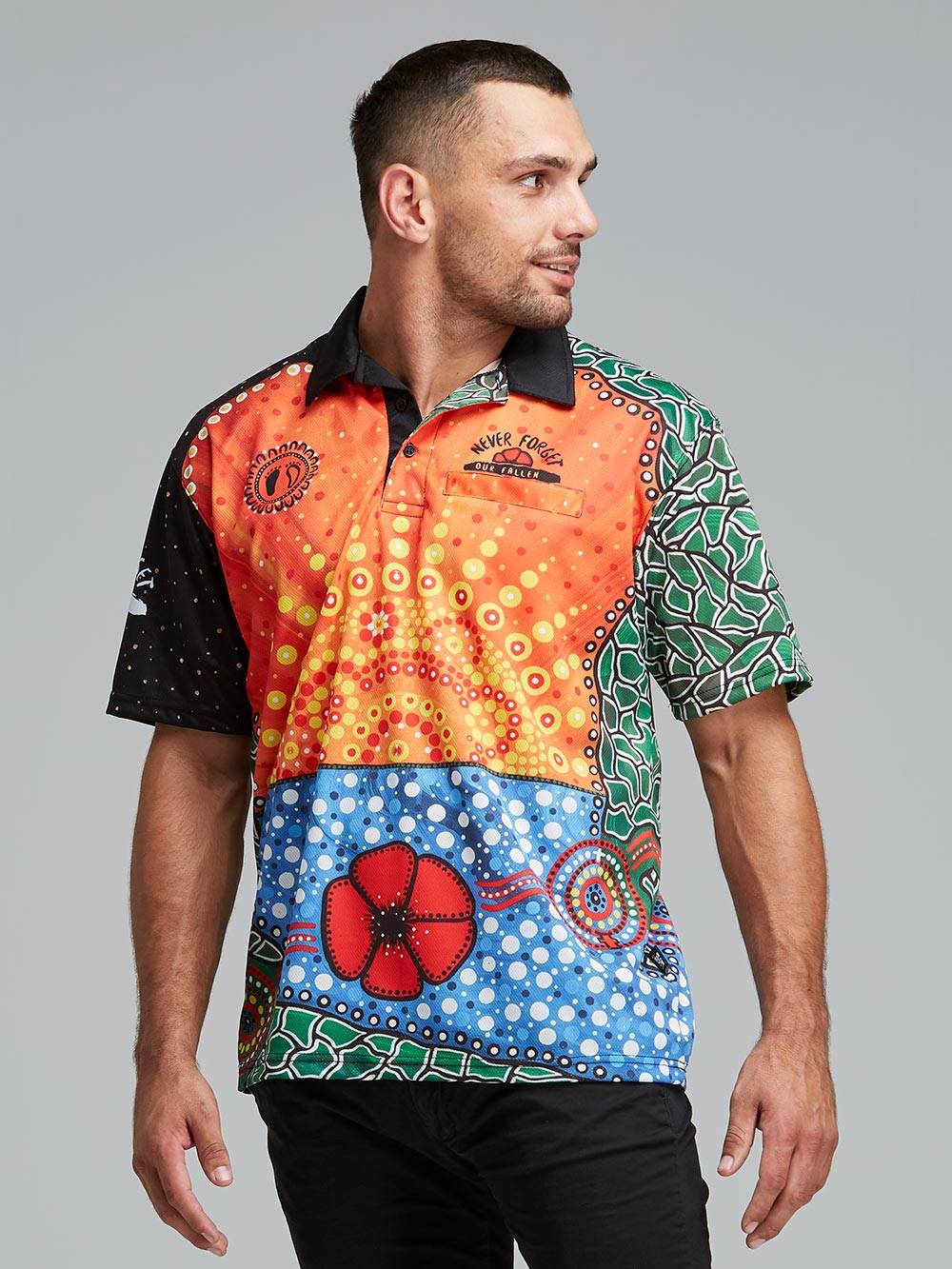 Life Apparel Co is a proud advocate and member of the Indigenous Art Code. We closely collaborate with and commission Aboriginal and Torres Strait Islander artists. All Indigenous artworks that feature on the products are 100% authentic